About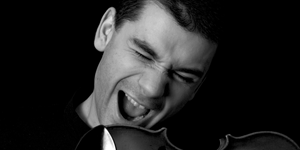 "I never heard so much poetics in a performance…
Diapason Nov. 2016
"…To hear these Sonatas played by Emilio Percan is an amazing experience…"
Arte de la fuga Oct. 2016
These are some of the reactions to the "Vivaldi per Pisendel" Cd that was released in september 2016 and crowned a very successful year, full of debuts including a recital in New York city and a tour through the Caribbean replacing Daniel Hope on a short notice but also performing together with Luca Quintavalle and Oriol Aymat at the St. Petersburg philharmonic and at numerous festivals in Germany, Spain and Austria as the GAP Ensemble. 
Overwhelmed by the sound of the violin that his father played, he started with violin lessons at the age of 7 at the state music school of my native city – Skopje (Macedonia). He did his debut recital at the age of 14. It was a master class with professor Isabela Golovina (a former student of Leonid Kogan) that made the first big impact on his musical development with whom he continued studying in Moscow in 1999. This experience was followed by a tutorship from Professor Dora Ivanova (a former student of David Oistrach) in Sofia in 2000. He entered the "Folkwang" university in Essen- Germany in 2001 in the class of Prof. Pieter Daniel, with whom he did his further studies.During this time he was taught and guided by prof. Andreas Reiner, prof. Vladimir Mendelssohn prof. Christian Rieger and prof. Dirk Mommertz in chamber music and Stephan Schardt – period instruments (baroque violin).
He perform as a soloist and a chamber musician all over the world and is a visiting concertmaster and a soloist of many European orchestras. Through his various artistic engagements he works with artists such as Daniel Hope, Raffaella Milanesi, Edita Gruberova, Xavier de Maistre, Hille Perl and Viktoria Mullova with whom he performed double concertos all over Europe.
He performs at venues such as Teatro Colon – Buenos Aires, Tchaikovsky Conservatory – Moscow, Berlin Philharmonic, Pro Musica Concert series,  Festspielhaus Baden-Baden, Tonhalle Düsseldorf, Schwetzinger Festspiele, Handel festival Halle, WDR-Musikfest, Israel Festival, Cité de la musique Paris, Bishkek Philharmonic Kyrgyzstan, Tokyo Opera Hall, Savannah Music Festival USA etc.
Since 2012, when his debut CD "Affettuoso" was released with Onyx classics Emilio has been very active as a recording artist, with productions that have been highly acclaimed by music journals such as Diapason, The Strad, Gramophone etc. 
Apart of his performing activities Emilio is a passionate teacher, coaching many students on both sides of the globe. He is a lecturer at master classes in Russia, Brazil, Ukraine, Serbia, Austria, Kyrgyzstan, Bulgaria  and an organizer and teacher of the Jeunesses Musicales summer camp in Macedonia since 2009.
He holds a visiting professorship at the Moscow state University of Culture since 2012 and teaching a class of highly gifted students at the University of Arts in Graz – Austria since march 2015.